Meet Vijin: COVID screener, new grad, Care Champion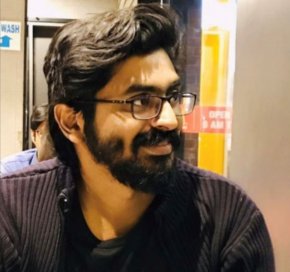 Through our national Care Champion program, we continue to recognize team members across Canada who go above and beyond every day for the people we serve.
What makes our Care Champions stand out? In this ongoing series, we'll get to know our Care Champion recipients from across Extendicare and ParaMed. We kick off this series with Vijin Wilson, whose career journey over the past two years has taken him from Bangalore, India to Sault Ste. Marie in northern Ontario, to his latest move to our Head Office in Markham, Ontario.
Shortly after earning a master's degree in psychology, and amid a global pandemic, Vijin Wilson left his home in India to become an international student. Vijin didn't imagine, two years later, he'd be building a career with the Canadian company where he worked part-time as a COVID screener: Extendicare.
Vijin arrived from India in fall 2020. As he prepared to start a two-year Global Business Management program at Sault College in Sault Ste. Marie, Ont., COVID-19 hit and his classes moved online. For months, his only human contact was with two of his housemates, both PSWs at Extendicare Van Daele. They suggested he apply for a part-time COVID screener role at the home. He did, and once there, Vijin quickly earned the respect of his co-workers.
In her Care Champion nomination for Vijin in late 2021, Mary Deschene, the home's Administrator, noted: "Vijin is always calm, cool, and in good spirits. He goes above and beyond covering off co-workers in other areas whenever required: he has helped with deliveries, put away groceries, escorted family members to/from the units, portered residents… anything we required."
So, when Dr. Michael Guerriere phoned Vijin to congratulate him on being selected a Care Champion, it's no surprise that he also caught the attention of Extendicare's President and CEO.
Learning that Vijin hoped to start a career in human resources when he graduated in spring 2022, Mike connected Vijin with our recruitment team. The rest is history: in June 2022, Vijin relocated to Toronto to begin his new role as an HR Operations Analyst at Extendicare's Head Office in Markham, Ontario. "That conversation changed the course of my life," Vijin said.
More about Vijin: Five fast facts
Hometown: Bangalore, India. Known as the Garden City of India because of its lush greenspaces. Population: 10 million — a big difference from Sault Ste. Marie's 72,000.
Why Canada: "Canada has a reputation for celebrating diversity and welcoming people from around the world."
Memorable commute: The morning after a massive snowfall in Sault Ste. Marie. "It was minus 34 degrees. I could barely breathe and I had to climb over a snowbank to get to work. It felt like Mount Everest to me!"
Family guy: Vijin last saw his parents, cousins, and friends in India nearly two years ago. "My Mom still calls me every morning to check in."
Signature dish: Butter chicken. His secret? YouTube cooking videos!